Dolby Atmos Certified Mix Stage
Toolshed audio post
AUDIO POST SOLUTIONS FOR ALL BUDGETS.
Think of us as an 'audio post aggregate' of some of the best audio professionals and facilities in Los Angeles. Because your project is unique, we will analyze your needs, consider your budget, and assemble the right team. We personally supervise and take responsibility for every aspect of the audio until delivery.
Toolshed Audio Post brings over 20 years of experience in sound post production. We have a passion for bringing soundtracks to life.
dub stage
Dolby Certified for Atmos Home Entertainment
In May 2019, Toolshed Audio Post received full certification from Dolby Laboratories for Dolby Atmos mixing for Home Entertainment; including streaming, DVD, and Broadcast deliverables. A mark of technical excellence for the creation of Dolby Atmos content. Toolshed was only the second studio in Los Angeles to be certified, and only one of twelve in the world.
The new Toolshed re-recording stage was designed and tuned by Jerry Steckling, former Chief of Acoustic Engineering at Skywalker Sound, where he designed, engineered, and implemented sophisticated sound systems at George Lucas's Skywalker Ranch and Industrial Light and Magic.
Deliverable formats for Cinema, Broadcast, and Streaming include, 7.1, 5.1, Stereo, and Dolby ATMOS.
Monitoring Equipment:
JBL Cinema 2-way Cinema ScreenArray

JBL 708i Surround Speakers

Bag End 18" Subwoofer Array

Stereo Avantone MixCubes

QSC Q-Sys 250i Digital Room Tuning

QSC CXD-Qn Digital Network Amplification

iPad & S6 Monitoring Control Integration
Avid S6 Mixing Console

Pro Tools 12HD

(1) HDX3 Pro Tools Mix System

Avid MTRX & Avid MADI

128ch I/O MADI, 64ch I/O DANTE

Dorrough Metering

(1) HD Native Mix System

RME MADI, 128ch I/O

Dolby ATMOS HT-RMU for streaming deliverables
Video & Projection Specifications:
AJA Kona LHi Video Playback

AJA HD Tri-Level Clock Sync Generator

BenQ HT2150ST 1080p

Seymour Screen Excellence custom 6' x 10' woven acoustically transparent screen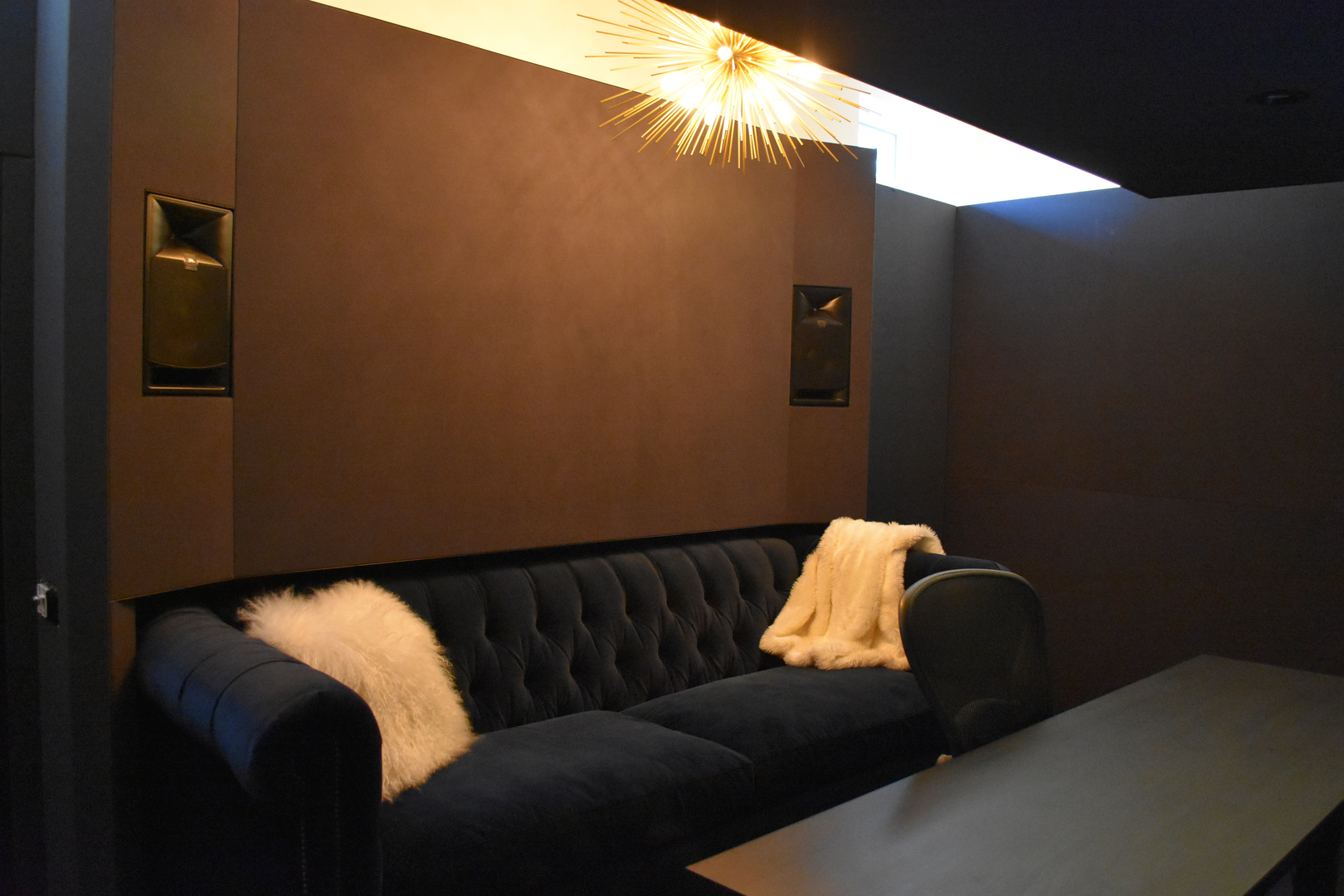 Mailing Only
20929 Ventura Blvd. #47-464
Los Angeles, CA. 91364
email: contact@toolshedaudiopost.com
phone: (818) 332-1977